Due to popular demand, the product development team at Texifter is proud to announce that "TopMeta" is now exportable! What does this mean, you might ask?
What is TopMeta?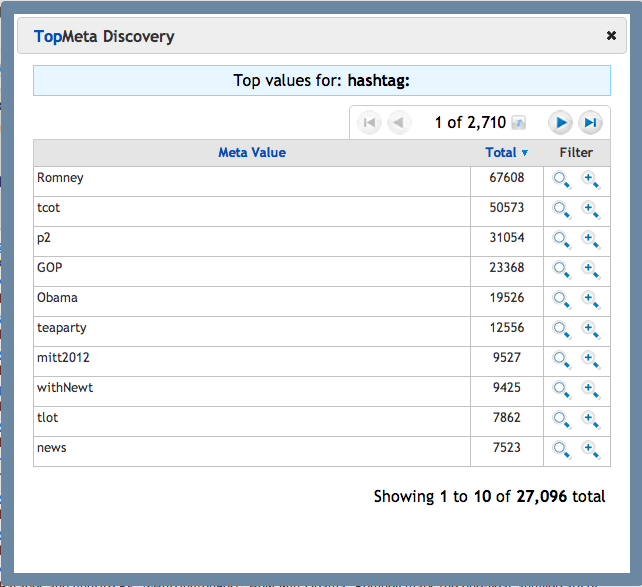 When you import either your own data or live social media feeds into DiscoverText, that data often includes various "metadata," providing a wealth of revealing information about the Tweet, Facebook post, public comment, or survey response you will be analyzing. "TopMeta Explorer" is the function in DiscoverText that allows you to view the number of most (or least) frequently occurring metadata items and filter your data according to that metadata. Considering the wealth of metadata that may be within your data, the ability to easily organize and filter such metadata may turn out to be the difference between substantive and inadequate research.
Metadata is Power

When might the organization of metadata come in handy, you may also ask? It's easy to imagine the answer to this question when you consider the kinds of metadata you may collect from live feeds such as the public Twitter API or the GNIP PowerTrack. From those feeds alone, you may collect any of the following metadata (depending on your search method):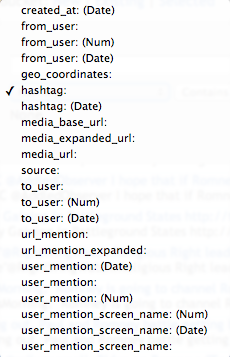 1) The time & date of a Tweet, 2) the account name of the tweet's sender, 3) the real name of the tweet's sender, 4) the "hashtags" in a tweet, 5) the account name(s) "mentioned" in a tweet, 6) the shortened URL in a tweet, 7) the expanded URL in a tweet, 8) a link to the tweet itself, 9) a direct link to the media in a tweet, 10) the geo-coordinates from which a tweet is sent, 11) the number of "followers" of a tweet's sender, 12) the number of those "following" a tweet's sender, 13) the date that a tweet sender's account was created, 14) the city of the tweet sender, and 15) the "Klout" score of the tweet's sender.
Exporting TopMeta
Until now, the "TopMeta Explorer" function has allowed users to easily sort this kind of metadata within DiscoverText.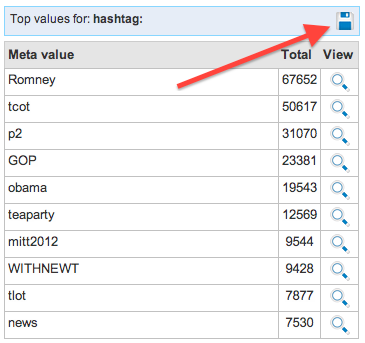 As of this week, this metadata can now be exported as a .CSV file, empowering Enterprise DiscoverText users to more seamlessly utilize the capabilities of DiscoverText, in tandem with their other research tools. We'll continue to keep you posted about exciting new developments in DiscoverText as they are launched. If you are interested in trying DiscoverText for yourself, sign-up at discovertext.com and email me at josh@discovertext.com. I'll be happy to get you started.