Social Data & Tools: Prizes for Academics
We felt inspired by the recent #DataGrants experiment sponsored by Twitter that generated more than 1,300 proposals from 60 countries and resulted in six extremely interesting awards. One thing is clear: many more grants of social data licenses are needed to fuel academic research. Texifter is sponsoring social data and tools prizes for academics as a simple contest with 12 winners a month this summer. In addition to social data access, we understand that many academic researchers also need "point & click" web-based tools to simplify the data access and management tasks involving social media APIs and jSON.

The Prizes
We will award twelve social data prizes with text analytics software licenses every month this summer.  These premium social data prizes include access to our powerful online DiscoverText tools to search, filter, cluster, code, and machine classify the data, as well as interactive visual reporting tools include several specialized views for metadata eDiscovery, time series, deduplication, near-duplicate clustering, and other project attributes. No software programming skills required. The twelve monthly prizes are:
One grand prize per month of 10 Historical Twitter Days and credit for 1,000,000 Tweets plus one year of Enterprise access to DiscoverText. Up to one hour of free consulting on research design and social data cleaning.
Two nearly grand prizes per month of  5 Historical Twitter Days and credit for  500,000 Tweets plus six months of Enterprise access to DiscoverText. Up to one hour of free consulting on research design and social data cleaning.
Three prizes of six months of Enterprise access to DiscoverText plus 100,000 credits to capture day-forward Twitter data via the Gnip PowerTrack.
Three prizes of six months of Enterprise access to DiscoverText plus 50,000 credits to capture day-forward Tumblr data via the Gnip PowerTrack.
Rules to Enter
This prize drawing is designed to promote experimentation with the free historical Twitter estimation tool we have in beta known as Sifter. The application provides search and retrieve access to every undeleted Tweet in the history of Twitter.
Create a free account on Sifter: http://sifter.texifter.com/Home/Registration.
Indicate you are an academic and show your affiliation using a URL during or after the registration process.
Send us a copy of your CV via email (info@texifter.com). You only need to do this once even if you enter every month.
Use Sifter to generate at least one Gnip historical PowerTrack for Twitter estimate spanning no more than 10 historical Twitter days and returning no more than 1,000,000 tweets. Estimates are free and we encourage experimentation with sampling and PowerTrack operators. Create as many estimates as you like.
Every user with a valid estimate =<10 Twitter days and =<1,000,000 tweets during a calendar month this summer will be entered into the drawing for a social data research grant prize.
Every month, for at least the next three starting with June 2014, we will hold a new drawing.
A single user can only win one prize per month, but can enter the drawing every month. We will do a drawing at the end of each month limited to just the first 100 eligible entries to increase the chances of winning a prize to better than 1 in 10. Remember to visit Sifter early in the month before all 100 entries are taken.
After the drawing each month we will publish a list of the 12 winners and their academic affiliations on the Texifter blog.
Social Data and Software Terms of Service
All contest-related social data will be stored in DiscoverText. Use of the data is governed both by the publisher and Texifter Terms of Service.
The Future Need for Tools and Data is Great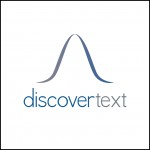 This small contest cannot satisfy the pent up demand students and faculty have for tools and data. We do think that these prizes can equip a researcher with sufficient data and advanced analytic tools to run a successful pilot study, or to complete a graduate thesis proposal. It is our hope to grow the social data research grant program over time. If it helps to drives new awareness of the research ecosystem, Texifter would be happy to be a part of the innovative energy pouring into academic research studies of the impact and uses of social data.
Project Outputs
We will invite all of the contest winners to write about their project on the Texifter blog. This is optional, but we have had some great guest research posts lately about school bullying, elections, and reusable learning objects. We hope these software and social data research grants will lead to more reports of innovative teaching and research efforts.